June 24-25, 2006 - 6th Annual 5on5 Friendship Cup @ Chinatown, NY

April 2, 2006 - 2006 9th Annual (ABC) Asian Basketball Classic@ Ramapo College, Mahwah, New Jersey

March 25-April 23, 2006 - 2006 Pre-NACBAIT Classic @ Temple University, Philadelphia, PA
3/25 - Women's Open; 4/1 - Boys 18-under
4/15 - Boys 16-under; 4/22 - MEN'S OPEN ELITE AA; 4/23 - MEN'S FRIENDSHIP (A/B)

January 14, 2006 - 2006 1st Asian 5on5 Hardwood Classic @ Rebounds, Neptune, New Jersey

December 10-11, 2005 - Christmas 2005 Asian Basketball Invitational Tournament
@ Philadelphia, PA

July/August 2005 - 5th Annual Summer Nights League, Chinatown, NY

June 25-26, 2005 - 5th Annual 5on5 Friendship Cup, Chinatown, NY

October 13, 2007 - 1st Annual Give Me 5 Tip Off Classic @ Ramapo College, Mahwah, NJ

August 24, 2007 - 7th Annual Summer Nights League
@ Chinatown, NYC

June 23-24, 2007 - 7th Annual 5on5 Friendship Cup
@ Chinatown, NYC

April 7, 2007 - 10th Annual Asian Basketball Classic
@ Ramapo College, Mahwah, NJ

January 20, 2007 - 2nd Annual Asian 5on5 Hardwood Classic @ Rebounds, Neptune, NJ
1st Annual Give Me 5 Tip Off Classic
MENS AAA CHAMPIONS - NY ROCKITS AIA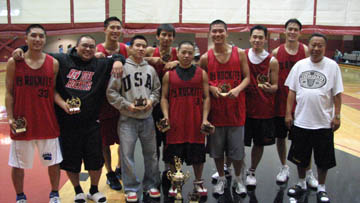 MENS A CHAMPIONS - DRIVEN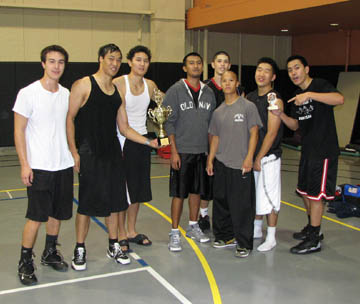 MENS B CHAMPIONS - NY FLIGHTZ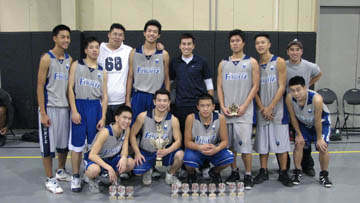 WOMENS CHAMPIONS - NY LADY CRUISERS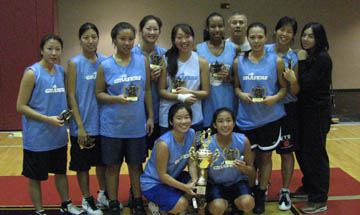 OTHER EXCITING PHOTOS
| | |
| --- | --- |
| Flightz, George Tang on offense | Flightz, George Tang playin the tough D. |
| Referee Tony Hargraves - Gotcha !! | Women's MVP |

7th Annual 5on5 Friendship Cup
Men's AAA - USAB WARRIORS

Men's A - TECHNICIANS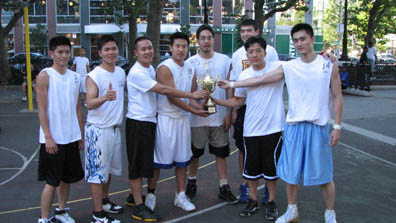 Men's B - ROCKITS ALUMNI


Men's B/C - HOPE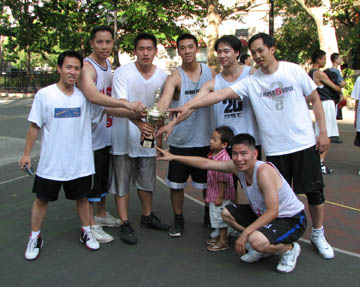 Women's - NY LADY CRUISERS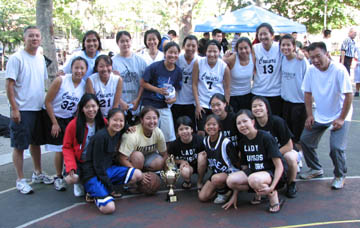 Liberty - NYC SABRES RED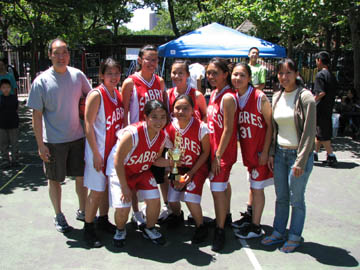 OTHER EXCITING PHOTOS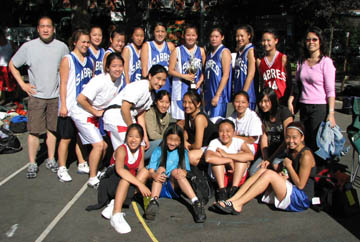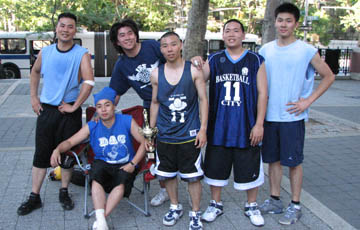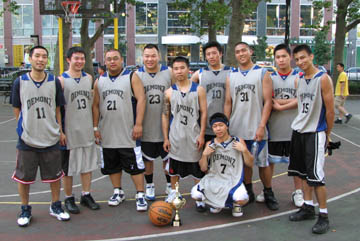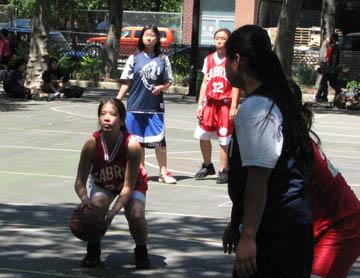 10th Asian Basketball Classic
AAA - DREAMLEAGUE EAST MAKES IT TWO IN A ROW
A - HALF ASIAN HALF AMAZIN SURPRISE
B - NY FISHMEN STILL GOT SOME GAME
MENS AAA
The competition was fierce with as much as 8 out of the 9 teams thinking they had what it takes to win on this day of the 10th Asian Basketball Classic. But only one team would remain in the end - Dreamleague East makes it two tournaments in a row as they claimed the championship of the 10th Asian Basketball Classic on Saturday, April 7, 2007 at Ramapo College in Mahwah, New Jersey. This time, they defeated the NY Rockits AIA, 35-27. Tournament MVP, Nic Echevestre, led the way with 14 pts, and teammate Jonathan Guilfoile chipped in 8 pts. For the NY Rockits, Kevin Low tallied 8 pts. but missed four free throws in succession in the second half. The rest of the Rockits members only managed to drop 2 to 4 points each. Not enough to take home a championship.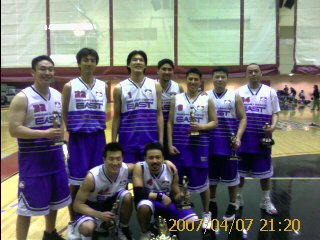 Men's AAA Champs - Dream League East
FINAL RESULTS OF TEAMS with records
Champions - Dreamleague East, 4-1
Runnersup - NY Rockits AIA, 3-3
Semifinalist - Toronto Dragons, 2-2
Semifinalist - Toronto 25 for Life, 3-1
Philly Suns, 2-1
TLC, 2-1
NY Maximum Output, 1-2
NY Rockits M&M's, 0-3
Montreal Kaitas, 0-3
Preliminary Round Highlights
With the high caliber of teams competing in this year's event, the preliminaries saw many surprises and exciting games that went down to the final shot. First off, claiming the 1st seed after the preliminaries were over was the Philly Suns. They surprised the NY Maximum Output team in the opening game (49-37) with their patented 2-2-1 full court pressure defense and forced upwards of 15 turnovers. Guards Rich Huynh rattled home 4 treys and lightning quick Emil Buschilli returned to the team and chipped in 13 pts. Add in the pounding they gave to the undermanned Montreal Kaitas and they walked away with the #1 seed going into the playoff round. Trying to outdo them was the new team from Toronto, Canada. Toronto 25 for Life (Filipino) had everyone shakin with their high caliber play as they defeated the NY Rockits AIA and the Dreamleague East team in the prelims. By far the toughest group of the three, the players on Toronto 25 for Life showed amazing hoop fundamentals coupled with some serious athletic hops. Upwards of 5-6 players could take over the game for their team at any time led by Mike and Jonathan Semira, Elvin Etcubanez, Russell Felipe and JP Albano. In their first game, they defeated Dreamleague East 43-39 in a hotly contested battle from tip-off to the last free throws made. Russell Felipe led the way with 8 pts. but numerous teammates balanced the scoring out with 6-7 points each. For the Dreamleague East, Nic Echevestre led the charge with 18 pts. In the second game, Toronto 25 for Life defeated the NY Rockits AIA, 30-25. With both teams playing good defense, no one really got untracked offensively. With those two victories, Toronto 25 for Life took the #2 seed. Taking the #3 seed, was another Filipino team, TLC. Their first victim was the up and coming Rockits M&M's team, 44-39. Ian Clemente dropped in 12 pts while his brother, Chris had 6 followed by new pickups, Darren Jiang, contributed 8 pts. For the Rockits M&M's, big Howie Chu had 16 pts. TLC then escaped with a 1-point win over the Toronto Dragons with a buzzer beater by Chris Clemente. Brothers Curtis led the way with 3 treys and 15 pts., Chris finished with 9 pts. Pacing the scoring for the Toronto Dragons was Kenny Ao 12 pts. and Jordan Chiang 11 pts. Let the playoffs begin. Highest individual scoring game was Nic Echevestre's 36 pts he dropped on the NY Rockits in a 62-58 win.
Playoffs and Semifinals
After looking at the pairings, the most interesting game of the first round had to be the #3 seed TLC versus #6 seed Dreamleague East. Was the Dreamleague East's loss to the Toronto 25 for Life team in the prelims a fluke or would they bounce back? Dreamleague answered their doubters with a decisive 50-38 win. Once again, Nic Echevestre led the charge with 25 pts. After being relegated to the #8 seed, the NY Rockits AIA, defeated the Montreal Kaitas to advance to play #1 seed, the Philly Suns. With the Philly Suns leading most of the game and by six with only two minutes remaining, it looked like the Rockits were going home early. But someone must've been looking out for them. The Suns in charge and playing a 4-corners stall offense turned the ball over a couple of times and missed a couple of shots which led to the Rockits surprising comeback win 31-26. Another quarterfinal matchup worth mentioning was the #4 vs. #5 seed game between the Toronto Dragons and Maximum Output. Max Output jumped out to a 15 point lead in the 1st half only to succumb to some costly turnovers and missed shots before allowing the Toronto Dragons emerge with a 49-45 victory. Six players either had 6 or 7 points each to pace the Dragons. While Maximum Output was led by Wilson Lew's 11 pts and Brandon Chock's 10 pts., respectively.
Semifinal action saw a return matchup of the Toronto 25 for Life versus Dreamleague East. This time around, Dreamleague East tightened up on their zone defense and allowed minimum penetration from the opposing team's guards. Always holding onto a 4-8 point margin, Dreamleague avenged their preliminary round lost 49-43 and earned a trip to the CHIP. This time it was the hot shootin of Yochi Kagitomi who finished with 18 pts. while Nic Echevestre chipped in 16 pts. Ray Montaniel paced Toronto 25 for Life WITH 4 treys, 14 pts and Jonathan Semira with 12 pts. The other semifinal saw the Toronto Dragons and NY Rockits AIA battle it out with the Rockits cruising to a 43-29 victory and a trip to the CHIP. Chris Chin led a balanced attack with 12 pts. On the Toronto side, Kenny Ao 11. Down to the final game of the day: NY Rockits AIA vs. Dreamleague East.
MOST OUTSTANDING PLAYER - Nic Echevestre, Dreamleague East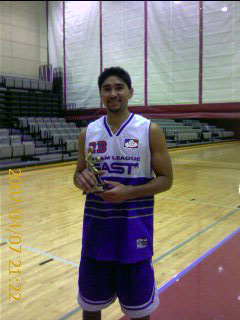 ALL TOURNAMENT
Chris Chin, NY Rockits AIA
Raymond Montaniel, Toronto 25 for Life
Kenny Ao, Toronto Dragons
Yoshi Kagitomir, Dreamleague East
MEN'S A
The A division had one favorite and a few notable contenders. The NJ Pirates were the favorite but due to some injuries and probably fatigue they were overtaken by Half Asian Half Amazin in the championship game 45-38. (What would've been a good write up couldn't be done as some knucklehead who kept the score for the Half Asian Half Amazin team didn't keep the individual stats - I'll put his name at a later date)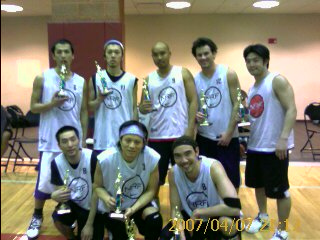 Men's A Champs - Half Asian Half Amazin
MOST OUTSTANDING PLAYER - Mike Won, Half Asian Half Amazin
ALL TOURNAMENT
Brad Liu, NJ Pirates
Ian Yu, NY Rockits U.
Min Park, Bergenesque
Terrence Chin, Half Asian Half Amazin
MEN'S B
Playing with friends,that's what the B division is all about. It was a good time had by all and it didn't matter who would've won. At the end the NY Fishmen outlasted the Raging Demonz. Thanks are in order to the teams: NY Thunder, Hibachi - for coming down to run some hoops.
FINAL NOTE: A special thanks to all those teams that traveled from such great distances to attend the 10th ABC Classic.

2006 6TH ANNUAL 5on5 FRIENDSHIP CUP
2006 CHAMPIONS
MENS "AAA" - NY CRUISERS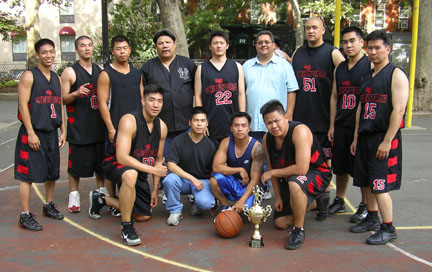 MEN'S "A" - ROCKITS U.
MENS "B" - TECHNICIANS

MENS "BC" - RAGING DEMONZ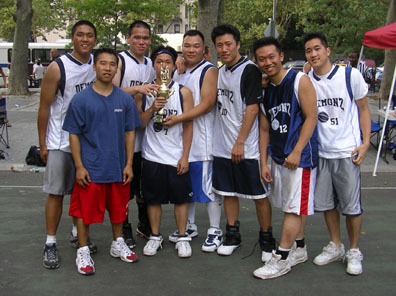 MENS "C" - BEARD PAPA
WOMENS/GIRLS - NYC SABRES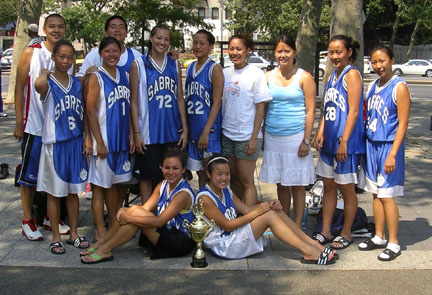 2006 PRE-NACBAIT CLASSIC
AT TEMPLE UNIVERSITY
(reprinted with permission from Mike Mon)
WOMEN'S OPEN
Without a doubt, the top story of this year's Womens Open Classic was another completely dominant performance from the Toronto Dragons. However, the more encouraging subplot of the tournament revolved around the gigantic infusion of youth that we have all witnessed. Each and every team featured players still in their high school and even junior high school years. This is a signal to us that the Womens Basketball Division is definitely here to stay. Following pool play, the top seeded teams receiving byes were the #1 Washington CYC China Dolls and the #2 Toronto Dragons, followed by the #3 NY Lady Sabres and #4 NY Lady Cruisers. Also managing to sneak into the playoffs were the #5 Philly Lady Suns and #6 NY USAB Warriors. Although the NY CASE Phoenix and NY Sabres Girls did not advance to the Championship round, they showed that given the right circumstances they have the heart and the ability to play at the next level. Look for big things from these two organizations in the future.
In the Quarters, the NY USAB Warriors were able to capitalize on an uncharacterstically lackidaisical Lady Sabres team. The Sabres must have been thinking they had an easy win over a team that barely made the playoffs, or maybe it was their mentally and physically draining tough pool play games, but whatever the reason, the Sabres just seemed to not have their heads into the game as the turnovers (22, according Coach Wilson Lew) began to fill the stat sheet. USAB, led by guard Kim Hom and 13 year old (and 5 foot 10!!) Nicole Lem, took advantage to garner a 12-3 halftime edge. The Sabres began to play their real game after the half, and were finally able to tie the game up with a minute to go, but USAB was able to defy the odds and upset the Sabres 24-18. All-Tournament selection Maisie Wong (14 ppg, 100% FT's for the tournament) led the Sabres, while Nicole Lem had 12 for USAB. The other QF also looked headed for an upset, as the Lady Suns raced to a 6 point lead early on thanks to some hot outside shooting. But if you live by the outside shot, you also die by the outside shot. The Suns went cold suddenly, and you know that Angie Leung (12 pts, 3 rebs) is always capable of a scoring explosion for NY. But what Philly did not count on was the performance turned in by the Cruisers' "other guard" Beatrice Chang. She plays college ball, but never having turned in this kind of a performance, Bea confidently nailed 3 straight triples to put the game out of reach. NY prevailed 42-30. Taylor Lee led Philly with 9, and Malina Luong also dropped in 6.
By advancing, the Cruisers got what they wanted- a long anticipated rematch with the Washington CYC China Dolls (CYC had taken 2 games from the Cruisers last tournament, both on buzzer beating shots). The young CYC team was feeling upbeat, especially thanks to the addition of 2 retro players from their NACBAIT Championship days- guards Allie and Alicia Chin. Adding them to their established core of new China Dolls had earned the team the #1 seed after pool play. Once the game tipped off, the Cruisers stayed focused on their goal and also were able to take advantage of a height discrepancy inside to take a 23-16 halftime lead as Diane Wong and Tracy Ng were pounding it in for NY. In the second half, Kristy Tung and Elsebeth Birman led a spirited DC comeback to get back within 3 at 40-37 with under a minute to go. CYC had the ball and went for the home run with a full court pass that led to a dreaded turnover. All-Tournament selection Beatrice Chang (19 pts, 3 treys) then sank 2-2 to put the game away 42-37. Sunny Chang led CYC with 15. The other semifinal game was not much of a game, as the legendary Toronto Dragons were well rested and facing an overmatched, tired, and spent USAB squad. Toronto won 50-23 as 4 players finished in double digits, led by JoJo Agudo's 11. The Finals was a rematch of a low scoring pool play game that Toronto had won by 8, so no one knew what to expect this time around. But the answer became clear very quickly. Toronto was up by 10 point within 5 minutes and stretched it out to 33-15 at the half. NY's guards led the way with Angie Leung and Beatrice Chang both scoring 6. MVP Jo Guinto (24 points, 6 boards) shot nearly 80% and earned 4 tough 3 point plays throughout the game to give the Dragons the 2006 Pre-NACBAIT Classic title 62-24. Best of luck to everyone as they head to Boston on Memorial Day weekend,
Pool W: Washington CYC China Dolls 3-0, NY Lady Sabres 2-1, Philly Lady Suns 1-2, NY CASE Phoenix 0-3.
Pool WW: Toronto Dragons 3-0, NY Lady Cruisers 2-1, NY USAB Warriors 1-2, NY Sabres Girls 0-3.
Quarterfinals
NY Lady Cruisers def. Philly Lady Suns
NY USAB Warriors def. NY Lady Sabres
Semifinals
NY Lady Cruisers def. Washington CYC China Dolls
Toronto Dragons def. NY USAB Warriors
Finals
Toronto Dragons def. NY Lady Cruisers
ALL TOURNAMENT TEAM
Jospehine Guinto, Toronto Dragons (Womens Open MVP)
Beatrice Chang, NY Lady Cruisers
Sunny Chang, Washington CYC China Dolls
Nicole Lem, NY USAB Warriors
Sandy Yu, Philly Lady Suns
Maisie Wong, NY Lady Sabres
Winnie Choi, NY CASE Phoenix
Toni Kong, NY Sabres Girls

BOYS 18-UNDER
Nine teams, all with the same goal: the 2006 Pre NACBAIT Classic title. But there can only be one. Following pool play, 8 out of the 9 teams advanced to the single elim portion of the tournament that would determine whose dreams would come true. In the Quarters, the first game almost turned out to be a huge shocker. The #7 Philly Suns 18B were looking to take a page out of the George Mason NCAA Final Four run, as they were trying to make a Final Four trip of their own. The Suns B team took advantage of an overconfident #2 seeded CYC 18's squad, by hitting an impossible number of shots early on. They sprinted out of the blocks 16-6, as two 5-10 freshmen forwards- De Lin and Tommy Le- gave Philly huge stats around the basket. But everyone knows that experience wins games, and CYC looked to their K Lees (Kigga and Kevin) to get them back in the game. Kigga packed the inside muscle, and Kevin came off the bench to calm down his teammates. CYC came back from 12 down to win it 50-40 as they avoided the upset. The next game was a matchup of NYC Chinatown teams- NY ISS Flightz, and the NY Young Life Rockits. The Rockits showed who rules those playgrounds, by taking a 24-3 halftime lead on the way to a 51-28 win. Billy Wu had 14 for the Rockits, while young buck Daniel Mui had 6 for ISS. The next game saw the Philly Suns 18A meet up with the new version of Armando Buligon's Ronin 18 team. The new Ronin team is full of promising young talent in the 8th-10th grades, so really look for them to improve in upcoming tournaments. Tang Vu paced the Suns with 16, and Phil Yun dropped in 9 for Ronin, as the Suns won 36-16. The final game of the round saw Rutgers meet up with the #4 NY Maximum Output Warriors 18's. Rutgers hung tough through halftime as they only trailed by 3, but in the end Max Wong's 16 points were too much for them to overcome. Warriors 44, Rutgers 24.
The Final Four produced 2 great games full of youthful energy and intense competition. Up first was the #1 seeded Rockits and the #4 seeded Warriors. Bragging rights, organizational pride, and numerous other factors led to a fabulous matchup here. Although these 2 teams met in pool play and the Rockits crushed the Warriors by 15, the rematch was a lot more contested. The Warriors had the size to match up with the Rockits, and also had outstanding guard play from Jeff Wong and All-Tournment selection Jason Phan to square off with Tommy Zheng and Victor Ng. With Joseph Si (3 triples) scoring from the outside and big man Patrick Lem (10 pts, 4 rebs) on the inside, the balanced Warriors were making it tough for the Rockits to defend in the half court. In the second half the Rockits finally got some momentum going, with gargantuan Howie Chu getting some easy buckets and then forward Eric Auyang got on track. Done. Rockits 38, Warriors 32. The other semi was also a pool play rematch, as it was CYC and the Suns 18A. CYC had completely ripped the heart out of the Suns game with their defensive pressure in the round robin matchup, but the playoff game was a different story. In the first half, CYC controlled the tempo and refused to get into a running/pressing/fast break game with the Suns. By making each possession really matter, CYC was able to take a 12-9 halftime lead. Josh Chang was playing lock down defense, Ryan Yuen was sinking the open shots, and Steve Kigga Lee was a man among boys as Washington went up by 10 early in the second half. After a timeout, the Suns decided it was time to play their open court game and it was "game on" for Philly. The smallest guy on the court, Richard Chau put his team on his shoulders and played the best half of his life. After a horrible first half where he scored zippo and had numerous turnovers, Richard demonstrated a really amazing will to win. He dropped 18 in the half, to go along with 3 long distance bombs and 4 steals. Final score was Philly 34, Washington 29. The finals match saw the Rockits meet up with the Suns. The same matchup as the Chinese New Years Finals, that the Rockits pulled out 42-34 thanks to a monster performance from center Howie Chu. The teams knew exactly what to expect from each other, so it all boiled down to simple execution. The Rockits were going to play their 3-2 on defense, throw in a variation every so often, and then play a classic halfcourt game on offense. Philly was going to rely on their full court press defense to get them going on offense, and then hope to spread NY out to find a mismatch. A couple of minutes in, Howie Chu carelessly put himself on the bench due to foul trouble, and Philly was thinking it was all there for the taking. But no one counted on Eric Auyung's huge game (10 pts, 3 rebs) for NY. The Rockits held a 20-14 halftime cushion, but the Suns finally managed to get NY into a helter skelter running game early in the second half. After Alex Lam scored 2 quick buckets and Tang Vu scored 4 more, the Suns were up 22-21. Coach Nelson Yu settled his Rockit boys down, as the game returned to the halfcourt pace that favored NY more. The Rockits held on 33-28 to win it, and the Suns would have to wait for next time. Congratulations are in order.
Pool J: Washington CYC 18's 3-0, Phila Suns 18A 4-1, Rutgers 1-2, NY Flightz 18 1-3, Phila Suns 18C 0-3.
Pool JJ: NY Young Life Rockits 3-0, NY Maximum Output Warriors 18 2-1, Phila Ronin 18's 1-2, Phila Suns 18B 1-4.
Quarterfinals
Washington CYC 18's def. Phila Suns 18B
NY Young Life Rockits def. NY Flightz 18
Phila Suns 18A def. Phila Ronin 18
NY Maximum Output Warriors 18 def. Rutgers
Semifinals
NY Young Life Rockits def. NY Maximum Output Warriors 18
Phila Suns 18A def. Washington CYC 18's
Finals
NY Young Life Rockits def. Phila Suns 18A
ALL TOURNAMENT TEAM
Tommy Zheng, NY Young Life Rockits (Boys Juniors 18's MVP)
Eric Auyang, NY Young Life Rockits
Tang Vu, Phila Suns 18A
Richard Chau, Phila Suns 18A
Josh Chang, Washington CYC 18's
Steve Lee, Washington CYC 18's
Aaron Phan, NY Maximum Output Warriors 18
Walter Wang, Rutgers
Daniel Mui, NY Flightz 18
Phil Yun, Phila Ronin 18

BOYS 16-UNDER
If the teams that played here in the 16 & Under Division are any indication of where the 18's and Mens Division are headed in a couple years, then we will be in store for some the best competition we have ever seen. The organizations who represented here at this tournament are the organizations who are committed to the youth, and to building a better future for them. We had of course the 2 host teams- Washington CYC and the Philadelphia Suns- who everybody already knows both have major youth initiatives and have worked together in the past at basketball and non-basketball events. And then we had 3 of New York's brightest clubs here- the famed NY Rockits (coached by NACBA top 25 forward Kevin Low), a relatively new team in the CASE Cougars (a group who has already made an impact in the NYC Chinatown community in its short history led by Howard Chin), and a brand new team called the NY Flightz (I can tell right away that a ton of work has been put into this team just by the way they play. And also let me be the first to say how well coached, organized, and respectful this team is. If these guys stick together, then believe me when I say this team can compete with any of the east coast's big dogs in a year or two!).
Well let's get back to the basketball. Pool play games were full of fast paced yet surprisingly fundamental and team oriented play throughout from almost every team. And once the playoffs began, this high level of intense play continued. The first Quarterfinal matchup was Washington CYC 16A meeting up with the NY Flightz 16's. The Flightz had come to the Classic a couple weeks ago and got pounded in the 18's division as they played against some older competition. But that must have been a great learning experience for them, as they were not intimidated one bit by the physically imposing CYC lineup featuring nose tackle Raymond Lee, biggy Jae Oh, lanky forward Kellen Ober, perpetual all-star Mike Born, and martial arts master Phillip Lee. The Flightz team is extremely well disciplined and stuck to their game plan. They played a tough alternating full court and half court zone defense that CYC just could not solve. And then with their main ballhandler Mike Born out with foul trouble, CYC was all sorts of disoriented. With Daniel Mui providing NY with inside toughness, guard Peter Lee serving as the defensive sparkplug, and Charles Wu dropping buckets, NY had the upset of the day 33-22. Phillip Lee and Kellen Ober led the way for CYC with 9 and 8 points each. The second quarterfinal was a deja vu scene, featuring the Suns and the CASE Cougars, just like the 16's Tournament finals last December. The Cougars completely dominated the last matchup, but this time they were without the services of some players from that team who had issues dealing with team commitment. The team did the right thing and came to this tournament with the guys who showed they really wanted to be here. Those kids really played their hearts out when they matched up with Philly, but the big difference was the deeper Suns bench which allowed them to keep the defensive pressure up all game long. The Suns won 49-27 as Antoine Mun scored 10 and had 3 assists. Swingman All-Tournament Selection David Kong led NY with 8 of the hardest earned points all day long, as he spent much of his time getting knocked over and getting right back up to compete.
In the Semis, the first game was the Washington CYC 16B's facing the NY Flightz 16's. The game plan for CYC was to make the Flightz hit from the outside, as CYC went with a 2-3 zone, mixed in with some full court pressing to disrupt the NY half court tempo. With Charles Wu (3 treys) the only reliable source of outside shooting for NY, CYC soon keyed in on him and was able to keep the ball out of his hands. With Oliver Wong and the Rogers boys running the court, CYC moved forward 48-24. The other semifinal was one of the best games of the day. The Suns 16's were eager to prove that they belonged among the elite as they met up with the powerhouse NY Junior Rockits. The game plan was to force NY into a running match and then beat them in a layup contest. The strategy worked in the first half, as Philly led 17-12 at the midway. Philly was able to render big men George Tang and Jason Ruan largely useless until the NY guards were able to calm down enough to get their bigs involved. Then NY went on a 16-8 run throughout the second half to take a 3 point lead late. Philly had a ton of opportunities but surprisingly could not convert a couple gimme layups. After that, it was all a matter of knocking down the free throws and the Rockits won 32-25.
The championship game was a rematch of last year's Pre-NACBAIT Classic Finals in the 15& Under division. Another year wiser, another year smarter, and another year taller. Last year, CYC was able to take the chip, and they were looking for a repeat this time around. But the Rockits are much improved, thanks to some excellent coaching and better fundamentals. So it was anyone's guess who would take it this year. Despite NY's pronounced size advantage, it always comes down to the guards. It was Dennis Liew and Da Shi Ho v/s Jason Lee, Steven Lee, Scottie Hsieh, and Brian Yu. But with Steven Lee useless due to illness, and Scottie Hsieh unable to find his stroke, CYC's version of the 4 guard Villanova style offense was pretty much cut down to a standard 2 guard offense. NY led at the half 13-8, as neither team was playing up to their full potential. In the second half, NY was completely in control of the game and if you didn't look at the score you would think it was going to turn into garbage time pretty soon. But Washington was resilient and somehow managed to stay in the game right down to the wire. With 1 second to go and up by 2, Dennis Liew mometarily lost his mind and earned himself a technical for foul lanuage. CYC's Da Loo sank both freebies to then send the game into OT with it knotted at 29 apiece. The Rockits Jason Ruan was an OT monster as he scored quickly and efficiently to help NY to a 6 point lead in the extra session. Point guard Jason Lee then responded with a 3 to give CYC a last chance but it was not to be their day, as one final turnover gave the Rockits the game. Great job NY Rockits, and also a fantastic job to all of the young men who participated in this event. May this only be the beginning of some great basketball for many years to come!
Pool A: Washington CYC 16B 2-0. Phila Suns 16's 1-1. NY Flightz 16's 0-2.
Pool B: NY Junior Rockits 2-0, Washington CYC 16A 1-1, NY CASE Cougars 0-2.
Quarterfinals
NY Flightz 16's def. Washington CYC 16A
Phila Suns 16's def. NY CASE Cougars
Semifinals
Washington CYC 16B def. NY Flightz 16's
NY Junior Rockits def. Phila Suns 16's
Finals
NY Junior Rockits def. Washington CYC 16B
ALL TOURNAMENT TEAM
Dennis Liew, NY Junior Rockits (Boys Juniors 16's MVP)
George Tang, NY Junior Rockits
Jason Lee, Washington CYC 16B
Alex Mun Lam, Phila Suns 16's
Peter Lee, NY Flightz 16's
Jae Oh, Washington CYC 16A
David Kong, NY CASE Cougars

9TH ASIAN BASKETBALL CLASSIC
AT RAMAPO COLLEGE
4/2/06 - March Madness showed up at the 9th Asian Basketball Classic as buzzer beaters and triple overtime games were the norm at this year's tournament. In the end it was SEDAGENER (that's Renegades spelled backwards) capturing the coveted Men's AAA championship over the NY Rockits. There was no repeat winner in the Men's A division as local favorite, the NJ Pirates (average age over 40) showed the youngsters that they still got game. The Men's B division saw the Young Life Rockits (18-under) capture their second title of the weekend (on saturday, they won the 18-under pre-nacbait classic).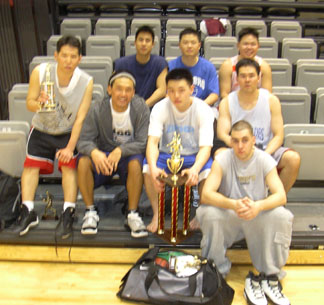 SEDAGENER (Renegades)
REPEATS AS MEN'S AAA CHAMPS
Showing a tremendous amount of fortitude and a desire to win, SEDAGENER rallied back after a sluggish start in which they were down by as much as 12 pts to overcome the NY Rockits, 43-37 in the championship game.
Early on, it looked like the NY Rockits were going to run away with the game as they sprinted out to a commanding 17-5 lead as SEDAGENER looked to still be recovering from their triple overtime semifinal victory over the Dream League Selects. But just like that, SEDAGENER showed their character and will by going on a 17-4 run themselves before taking a one point lead at halftime. The second half saw the play of Tony Hu (on loan from the Cruisers), show his toughness by canning five free throws on his way to tallying 12 pts and helping SEDAGENER keep a 2 to 5 point margin on the struggling Rockits. In the end, the Rockits couldn't overcome a bad shooting game. For SEDAGENER, aside from the outstanding play of Tony Hu, captain Eddie Wang chipped in a solid 10 pt performance. The NY Rockits were paced by Chris Chin with 14 pts, their only double digit scorer.
Championship Game: SEDAGENER 43, NY Rockits AIA 37
Semifinals
SEDAGENER 50, Dream League 46 (3 ot)
NY ROCKITS AIA 53, Boston Hurricanes 39
MOP: Tony Hu, Sedagener
All Tournament:
Kevin Woo, Boston Hurricanes
Chris Chin, NY Rockits AIA
Stanley Yeung, Dream League Selects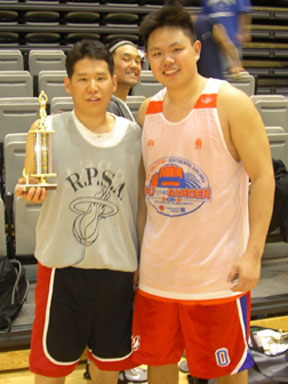 MOST OUTSTANDING PLAYER - TONY HU - SEDAGENER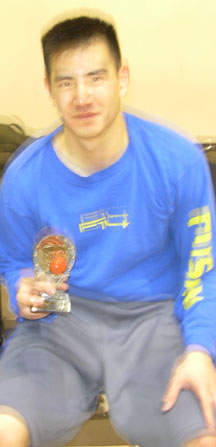 ALL TOURNAMENT - KEVIN WOO - BOSTON HURRICANES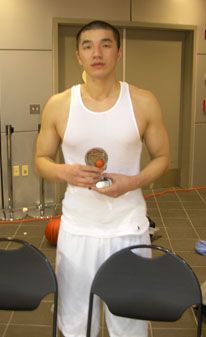 ALL TOURNAMENT - STANLEY YEUNG OF THE
DREAM LEAGUE SELECTS

NJ PIRATES-MENS A CHAMPS
(who says their too old)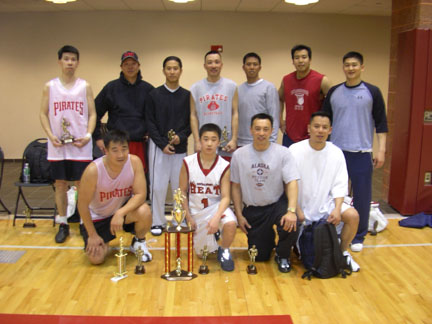 For those that have followed asian hoops for the past twenty years, you would have put your money down that the NJ Pirates were going to win the A division championship. It was expected because they came with a fully loaded team with a blend of New Jerseyans (Steve Lee, Rich Lo and Teddy Hom) and D.C. (Beaver Ho-NACBA top 25) hoopsters. Only thing is that everyone was over the age of 35 with the starting five averaging 43 years young. Even after losing a preliminary game early, the NJ Pirates showed they still got game and can still play with the younguns under the right situations.
After winning a tough overtime semifinal game over the previously undefeated Rockits U. team, the NJ PIRATES prepared to battle A-BALL for a second time after previously losing to them in the prelims. A-BALL came into the the championship game undefeated and was just faster and stronger than most teams they played. This time around, the NJ PIRATES came ready as they employed a tough zone defense which negated the quickness of the guard play of the A-BALLERS and forced them into shooting jumpers from the outside. The PIRATES jumped out to an early lead as the cold shooting A-BALLERS couldn't buy a bucket from the outside. By halftime, the PIRATES led 21-10. This 8-10 point cushion remained throughout the second half as the A-BALLERS made a couple of runs only to be followed by a key basket or free throw by the PIRATES. Most Outstanding Player, Rich Lo of the PIRATES finished with 11 pts followed by all tournament selection, Beaver Ho who finished with 14 pts (9-10 ft). For the A-BALLERS, it was all tournament selection Mark Kiang leading the way with 14 pts and Andy So with 10 pts.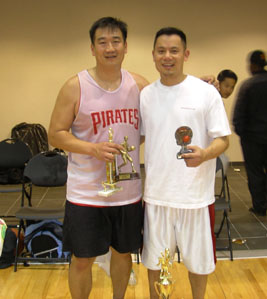 MOST OUTSTANDING PLAYER RICH LO WITH ALL TOURNAMENT SELECTION, BEAVER HO - NJ PIRATES
Championship Game: NJ PIRATES 47, A-Ballers 38
Semifinals:
NJ PIRATES 42, NY Rockits U. 38
A-BALLERS 35, Derty Jerz 28
MOP: Rich Lo, NJ Pirates
All Tournament:
Beaver Ho, NJ Pirates
Mark Kiang, A-Ballers
Michael Louie, NY Rockits U.
Min Park, Derty Jerz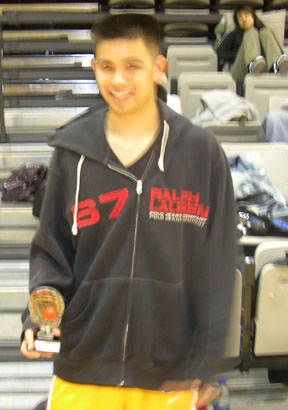 ALL TOURNAMENT MICHAEL LOUIE

MEN'S B CHAMPIONS - YOUNG LIFE ROCKITS
(VICTORIOUS WEEKEND)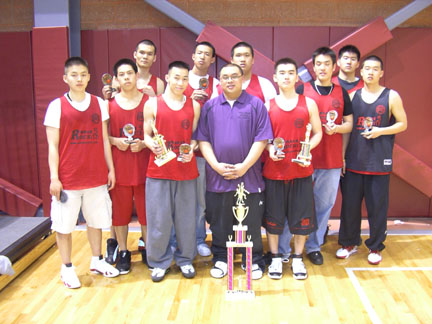 What a weekend for the NY Young Life Rockits boys 18-under basketball team as they were victorious on Saturday in Philly at the 2006 pre-nacbait classic 18-under division and then to follow up by capturing the Men's B division championship.
After going undefeated in the prelims and advancing to the semis, the YL Rockits prepared themselves to meet last year's champs, the NY Thunder. A matchup of of the young versus the old. The YL Rockits jumped out early with their youthful exuberance and took a 20-11 lead at halftime. The Thunder were fortunate to be this close as Richard Ng kept them close by sinking three treys in the first half. The YL Rockits continued with their pressure man to man defense and coasted to a 45-30 victory. Big man Howie Chu led the Rockits with 13 pts. and was followed by the Eric Ouyang with 9 pts. For the Thunder, Richard "Mun Bun" Ng finished with 16 pts. The other semifinal saw the Philly Suns 18's take on Better Luck Tomorrow. The Philly Suns looked to be on a roll as they secured the #1 seed in their group to advance to the semis. But Better Luck Tomorrow would have none of that as they played brilliantly to upset the Suns 46-34 and advance to the championship game.
In the championship game, the YL Rockits were beginning to feel the effects of playing numerous games in two days. They started slowly and led at the half 23-9. But in the second half, the YL Rockits showed their heart by playing stellar defense and controlling the tempo of the game and cruised to a 43-23 victory. Seven players scored for the Rockits led by the MOP Victor Ng with 8 pts and promising big man Jason Ruan who also finished with 8 pts. Leading the way for Better Luck Tomorrow was all-tournament selection, Peter Wen who had 7 pts.
Championship Game:
NY Young Life ROCKITS 43, Better Luck Tomorrow 23
Semifinals:
YL ROCKITS 45, NY Thunder 30
BETTER LUCK TOMORROW 46, Philly Suns 18's 34
MOP: Victor Ng, NY Young Life Rockits
All Tournament:
Tommy Zheng, NY Young Life Rockits
Peter Wen, Better Luck Tomorrow
Richard "Mun Bun" Ng, NY Thunder
Tang Vu, Philly Suns 18's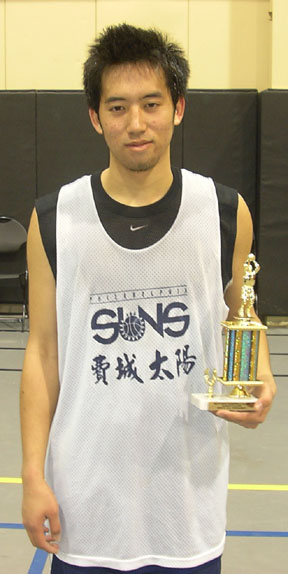 ALL -TOURNAMENT - TANG VU - PHILLY SUNS

ALL-TOURNAMENT SELECTION: RICHARD NG (r.) WITH CAPTAIN KIT CHAN OF THE NY THUNDER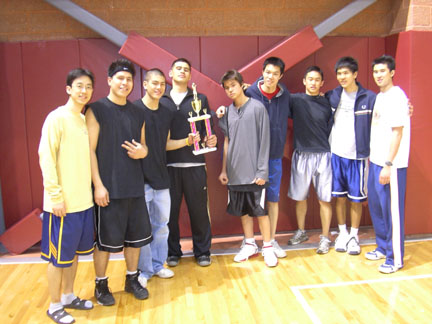 MEN'S B - 2ND PLACE - BETTER LUCK TOMORROW

2006 CHRISTAMS ASIAN INVITATIONAL
BASKETBALL TOURNAMENT
NY ROCKITS VICTORIOUS AGAIN
written by Mike Mon
Ten teams entered the tournament, each with hopes of bringing home a little something extra for the holidays. Following pool play, all 10 teams advanced to the single elimination bracket, as they faced an opponent from the opposite pool. In the first round, the Philly Suns 18B shocked everybody by defeating Virginia TNV 35-20 in convincing fashion. Jackie Tran had an awesome game from the field, scoring 17 points while center Alex Mun had 6 points and 3 rebs. Big man Jiguur Ganbold paced Virginia with 9 points and 4 blocks. The Delaware Aces then took home a 2-0 forfeit win over Philadelphia FACAA, who somehow FTA'd for the game. In the Quarters, the Suns A crushed the young Suns 18B as everyone got in the game to teach the young boys a lesson 42-17. With Alex Mun out for disciplinary reasons, the 18B team was slaughtered on the offensive boards as the Suns A got whatever they wanted on the offensive end. Brothers Li Yuen Fung and Jerry Fung spearheaded a balanced Suns A attack as they chipped in 8 points each. Up next, the Toronto United Ballers faced the Philly Suns 18A. Toronto came out quickly and took an 8-0 lead in the first 2 minutes. After that, the teams played evenly for the next 20 minutes of play until Philly's Dat Luong gave the game away for his team. After carelessly fouling to give Toronto a 3-point play, Dat's behavior got him tech'd out and the Toronto lead went from 7 to 16 in 10 seconds. Game over as the lead was unsurmountable, and Toronto won 44-28. Swingman Jon Semira led Toronto with 12. USP High Octane at 4-0 then met up with the 1-3 Delaware Aces. With athletic forward Denny Lerthphaiboon nursing stitches and a hand injury for Delaware, the Aces would need to rely on sharpshooter Brian Thomas and forward Chris Balan for their offense. Den's untimely injury became too much to overcome and USP showed why they earned the top seed. High Octane's athleticism at the guard spots pushed them to a 33-22 win. Darren Tang's offensive explosion (21 points , 3 triples) was the key for USP. When the NY Rockits AIA faced Philly Team Lion, it looked to be the best game of the round. Rockits Coach Nelson Yu was back with the team that he coached to the 2003 NACBAIT 18 & Under National Championship, while coach Jae Hwang was directing a team that recently took home a title in a local PSU tournament and finished second in our Fall 2006 Invitational. Team Lion had a definite size advantage with 6-4 center Charlie Yang, 6-1 PF Young Bum Lee, and 6-1 swingman Christopher Kim. But Team Lion was unable to take advantage due to unbelievable half court team defense and frequent NY double teams in the post. The Rockits forced Team Lion into a few costly turnovers late in the first half as NY held a 7 point lead midway. In the second half, the Rockits extended their man to man defense and took a 19 point lead with 10 minutes to go. However, Team Lion showed no quitting attitude. All-Tournament Guard Josh Chun had 10 second half points and Yohan Lee bullied in for a couple tough baskets and the lead was down to 3 with a 1:40 to go. Down the stretch, Chris Chin (21 pts, 2 treys, 7-8 ft's) sank all the freebies and the Rockits broke it open for an exciting 51-40 win.
In the Semis, the first game up was USP High Octane and the Toronto United Ballers. These teams had met earlier in pool play, as USP had won 48-41. USP started off by taking a quick lead and they looked like they would cruise to another win. Darren Tang, Marvin Oniate and Bill Hang were an unbeatable backcourt combination and Toronto just didn't have the legs left to stay with them. The only guy keeping Toronto in the game was shooter Germaine Wan (17 pts). USP had an 11 point lead with 8 minutes remaining. But their lead disintegrated so slowly that no one seemed to notice. USP seemed to be in control even as their lead went from 8 to 2. With 7 seconds to go, Jonathan Semira took a long shot for the win but hit the back iron, 2006 All-NACBAIT forward Hoi Yeung snatched the offensive rebound and kicked it out Germaine Wan on the elbow and Germaine sank it to send the game into OT. In OT, the teams traded 1 bucket each. Toronto had the rock at the end, and the zebras called a foul with no time remaining, sending high flying 6-2 PF Chris Powder Lee Palmer to the stripe with 2 shots to win the game. The gym fell silent, as the tension mounted. First shot looked good but hit every part of the rim but in. USP sensed a ray of hope. Chants of "K-FED, K-FED, K-FED" echoed through the gym in honor of Palmer's resemblance to Britney's baby daddy. Palmer then missed the second and we went into double OT. Not much transpired until USP was called for a suspicious 5-second call and Toronto got the ball. Jonathan Semira swished a trip and Toronto advanced to the Finals 48-45. The other Final Four matchup was the Suns A and the Rockits AIA. It was obvious that the Suns had one major advantage with 6-4 center Jake Fu hulking over every single Rockit player. NY began the game with an absolutely impossible offensive performance. The Rockits shot at least 75% in the first half to take 27-16 halftime lead. The second half was more of the same from the Rockits. High perimeter ball pressure, double down in the post, and an unstoppable spread perimeter offense. Chris Chin (17 pts, 6 steals) and Rich San Pedro (10 points, 2 rebs) were tops in the scoring column for NY. Big Fu had 13 for the Suns. New York 51, Philadelphia 30.
When the Finals began, it looked like New York had nothing to worry about. They had defeated Toronto by 52-48 in pool play, and they were playing great on both ends of the court. Toronto meanwhile, seemed to be exahasuted and there didn't seem to be any kind of answer for the Rockits 4 corners unselfish offense. But surprisingly, Toronto began the game by taking a hard earned 12-6 lead. They were able to challenge the Rockits shooters and force them into contested shots. Toronto then used their size advantage on the boards to gather in all the rebounds. As the game wore on, the Rockits slowly began to find the gaps in the Toronto defense and they started to regain their shooting touch. NY got a 4 point lead and held a 3-5 point margin for almost the whole game. When Toronto's All-NACBA forward Hoi Yeung cramped out with 5 minutes to go, the Rockits lead went from 4 to 10 in under a minute, as the team began to unravel. Germaine Wan was the high man for Toronto with 14. This was truly a team effort for NY, as the entire cast of Rockits chipped in unselfishly to end up the year in great fashion. Co-MVP Derek Villareal had a great tournament as he matched up all day with post men 6 or 7 inches taller than himself and was able to keep them in check. MVP Point guard Ming Wang (15 points, 6 assists, 6 steals, 6-6 ft's) was fabulous in the second half as he led the Rockits to another title. Great job Nelson, Denny, and the NY Rockits.
Pool A: Philadelphia Suns A 3-0, Philadelphia Suns 18A 3-1, Phila Team Lion 2-1, Delaware Aces 1-3, Philadelphia Suns 18B 0-3.
Pool B: USP High Octane 4-0, New York Rockits AIA 2-1, Toronto United Ballers 1-2, Virginia Team NV 1-2, Philadelphia FACAA Roughnecks 0-3.
Wild Card/First Round
Philadelphia Suns 18B def. Virginia TNV
Delaware Aces def. Philadelphia FACAA Roughnecks (forfeit)
Medal Quarterfinals
Philadelphia Suns A def. Philadelphia Suns 18B
New York Rockits AIA def. Philadelphia Team Lion
Toronto United Ballers def. Philadelphia Suns 18A
USP High Octane def. Delaware Aces
Medal Semifinals
New York Rockits AIA def. Philadelphia Suns A
Toronto United Ballers def. USP High Octane
Medal Finals
New York Rockits AIA def. Toronto United Ballers
ALL TOURNAMENT TEAM
Ming Wang, New York Rockits AIA (Mens Open Co-MVP)
Derek Villareal, New York Rockits AIA (Mens Open Co-MVP)
Jonathan Semira, Toronto United Ballers
Germaine Wan, Toronto United Ballers
Darren Tang, USP High Octane
Marvin Oniate, USP High Octane
Li Yuen Fung, Philadelphia Suns A
Jerry Fung, Philadelphia Suns A
Jim Reynolds, Delaware Aces
Josh Chun, Philadelphia Team Lion
Peter Hong, Philadelphia Suns 18A
Jiguur Ganbold, Virginia TNV
Jackie Tran, Philadelphia Suns 18B
1st ASIAN 5 ON 5 HARDWOOD CLASSIC
NY ROCKITS AIA CAPTURE
MEN'S AAA CHAMPIONSHIP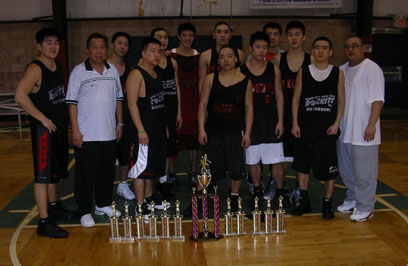 2006 Men's AAA Champs - NY Rockits AIA
With the addition of five new players and their two big men absent, the New York Rockits AIA found a way to stun the favored Maximum Output Warriors in the Men's AAA championship finale, 34-32.
As soon as the tip-off was done, you knew this game was going to be a heavily contested match up of two of the stronger teams from the NYC area. Maximum Output went into the game with a perfect 4-0 record and a world of confidence. They didn't disappoint as they jumped out to an early 4 pt. avantage before allowing the NY Rockits to come back and tie the game at half-time 17-17. In the second half, Maximum Output consistently held a 3-7 point advantage led by the stellar guard play of Wilson Lew (12 pts). With less than 8 minutes remaining, the Rockits were still within a couple of baskets when they began to chip away at the lead led by the tournament's outstanding player, Jarvis Miu (11 pts) and Chris Chin (9pts). As the two minute mark approached, the Rockits found themselves up by one point and their possession. With a perfectly tailored game plan, the smaller Rockits began to spread the floor and took valuable time off the clock as the coach of the Maximum Output decided not to order his players to foul. The foul did finally come but the Rockits managed to take over a minute off the game clock. With both teams giving their best efforts on the defensive end, it came down to Chris Chin having the opportunity to seal the game away at the free throw line. As the second free throw was rebounded by the Maximum Output Warriors and the Rockits clinging only to a two point lead, the suspense of the final shot was surreal. With three shot attempts beyond the 3-point line, and each one getting closer to the basket, you just can't imagine how each of the players, coaches, and family must've been feeling. In the end, the Rockits squeaked out a 34-32 victory and learned that it's not how tall you are but how you play the game.
Footnote: Win or lose, basketball is just a game and it's importance should be treated accordingly. Destructive abusive behavior and unsportsmanlike conduct after the game is embarassing and disrespectful.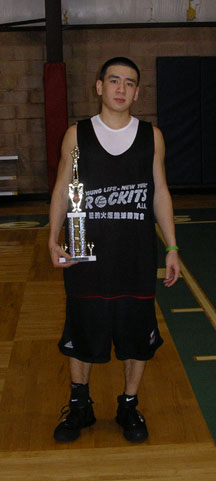 Men's AAA - Most Outstanding Player - Jarvis Miu
JERSEY BOYZ RIGHT AT HOME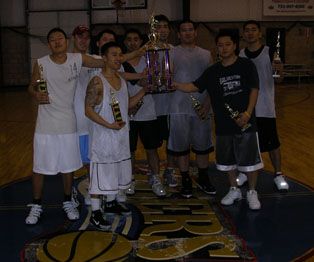 2006 Men's A Champs - Jersey Boyz
That's right, the Jersey Boyz lay claim to the coveted Men's A division as they handily defeated the Rockits U. team, 47-29 in the championship game. After a stellar first half by both teams, the second half for the Rockits U. team turned into a nightmare as they committed numerous turnovers that led to baskets by the Jersey Boyz. The champs were led by tournament outstanding player, Min Park who finished with 25 pts. For the Rockits U., Tim Chin led the way with 12 pts.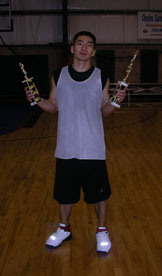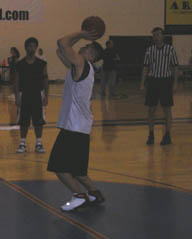 Men's A - tournament Outstanding Player - Min Park

Christmas 2005 Asian Basketball Invitational Tournament Results
Once again, the Philadelphia Suns organization hosted another successful tournament for the Asian community during the weekends of December 10th and 11th. Plenty of thanks should go to all the volunteers who helped with scorekeeping, refereeing, transportation, food, etc. For all the exciting action, click onto www.washingtoncyc.com.
This year's list of winners include:
Women's Open: TORONTO DRAGONS
Men's AA: WASHINGTON CYC
Men's B: RUTGERS RC3
Boy's 18: WASHINGTON CYC
Boy's 16: C.A.S.E. NY COUGARS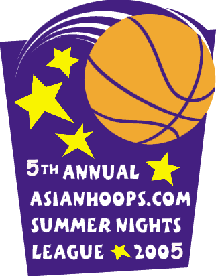 SUMMER HOOP SEASON
COMES TO A CLOSE
ROCKITS DEFEAT CRUISERS FOR CHAMPIONSHIP
Two of Chinatown's more established teams (NY ROCKITS AIA and the HOMECREST CRUISERS) battled it out tuesday night with the NY Rockits AIA prevailing and capturing the coveted Summer Nights League Championship, 57-35. For the complete scoop, please click here.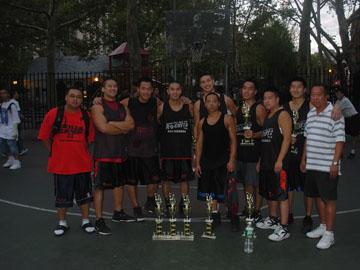 COLUMBUS PARK TAMES COUGARS
The Men's Silver Championship saw the local crowd favorite, Columbus Park defeat the up and coming C.A.S.E. Cougars, 45-40. For the complete scoop, please click here.

SATURDAY & SUNDAY, JUNE 25-26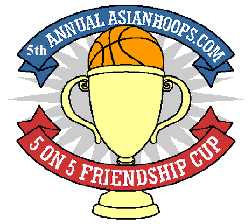 The 5th Annual 5 on 5 Friendship Cup held on the weekend of
June 25-26 once again proved that Asian hoops is all about having fun, hangin with the posse and hooping it up. Congratulations to all the participants and this year's (2005) champions:
Saturday Schedule: Roosevelt Park
Men's B = C.A.S.E. COUGARS
Men's C = NY THUNDER

Sunday Schedule: Roosevelt Park & Columbus Park
Men's A = NY YOUNG LIFE ROCKITS
Boys 18-under = USAB WARRIORS
Women's = HOMECREST LADY CRUISERS